On June 1, 2020, in the "List of Medical Material Manufacturing Enterprises Obtaining Foreign Standard Certification or Registration" published by the China Chamber of Commerce for Import and Export of Pharmaceuticals and Health Products, Reliance Bio was listed among them. Reliance Bio's new coronavirus lgG/lgM The detection reagents comply with foreign standards.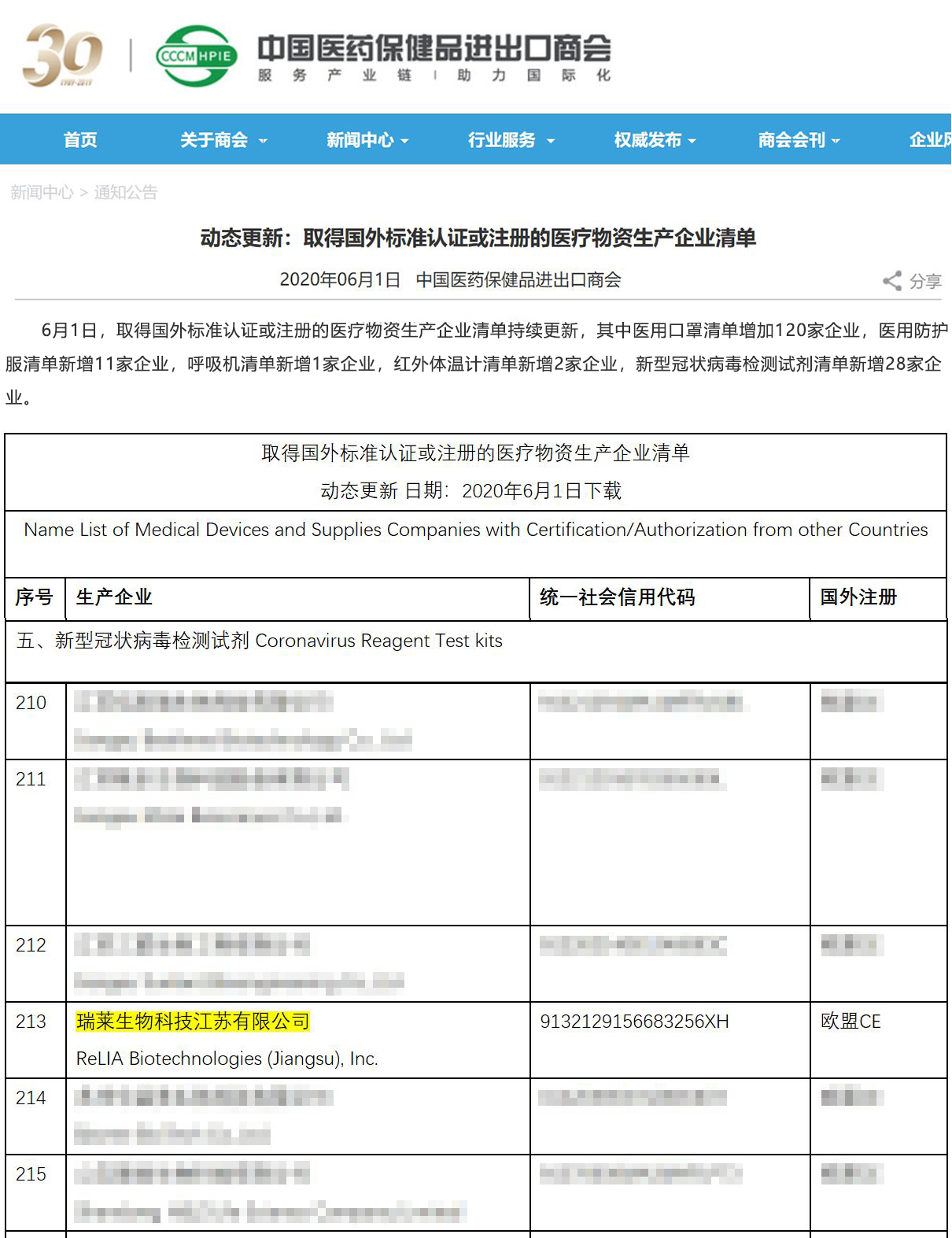 On April 25, 2020, the Ministry of Commerce, the General Administration of Customs, and the State Administration of Market Supervision and Administration issued a notice on further strengthening the export quality supervision of epidemic prevention materials: from April 26, new products in China have been certified or registered by foreign standards. Export enterprises of coronavirus detection reagents, medical masks, medical protective clothing, ventilators, infrared thermometers must submit a written statement at the time of customs declaration, promising that the products meet the quality standards and safety requirements of the importing country (region). The list of standard certified or registered manufacturers (dynamic update of the China Chamber of Commerce for Import and Export of Medicines and Health Products) checks and releases the exported products.
On June 1, 2020, the new coronavirus IgG/IgM detection kit independently developed by ReLIA entered the "white list" of the Ministry of Commerce's export of anti-epidemic materials.
ReLIA's new coronavirus IgG/IgM detection kit can qualitatively detect new coronavirus antibodies in human whole blood, serum, and plasma samples, and can be used as an important indicator for the detection of new coronavirus infection and the judgment of the diagnosis. IgM is an antibody that emerges after acute viral infections such as new coronaviruses and can be detected in a short time after infection. IgG is an antibody that appears late in the virus infection and can provide a long-term protective barrier for the human body. By detecting IgM and IgG antibodies, it can improve the sensitivity of virus detection and reduce the probability of false positive detection.